About Abundant Life Chiropractic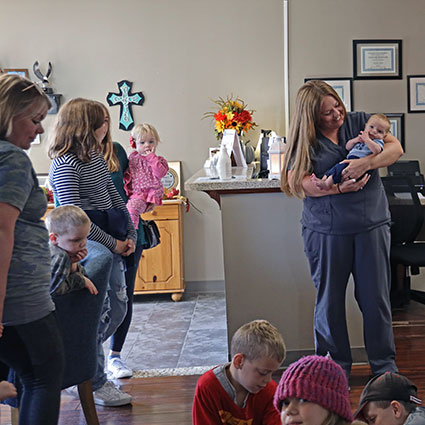 Helping Your Body Heal Itself
When your nervous system is functioning correctly, your body has 100% capacity to heal itself from pain, sickness and other dysfunction. At Abundant Life Chiropractic, our goal is to remove the interferences in your nervous system to restore that full healing ability and help you achieve optimal wellness.
Becoming Part of the Community
After attending Palmer College of Chiropractic in Davenport, Dr. Amy worked as an associate in Iowa for a time before deciding to move to the Kansas City area with her family. She likes to say that Belton chose her, because while looking for office space, the ideal location fell into her lap. She opened the Belton location in 2008.
She opened the Harrisonville location in 2020 to better serve our patients who come from further south.
Offering a Family Feel
We get to know our patients as people, rather than simply a set of symptoms to be treated—we treat your family like our own family. We build relationships and help educate patients on the innate healing powers their bodies possess. Through regular chiropractic care, we help patients achieve long-term wellness, and we celebrate those successes with them.
Our practice is warm and inviting, and our entire staff is committed to serving you. Everyone from our friendly, welcoming front desk staff to our compassionate and skillful chiropractors believe in our mission to help the people of Belton and Harrisonville live their healthiest, best lives.
MEET THE DOCTORS »
Success Stories
We see miracles nearly every day! A patient once came to Dr. Amy with foot drop, after all the doctors she visited said there was nothing to be done except to wear a brace. A young woman, the patient was discouraged and hopeless. Dr. Amy located the subluxation (misalignment) and, after a few visits, the woman regained full mobility and feeling in her foot. She did not choose to continue with wellness care, but even years later, she still refers patients to us and tells friends that Dr. Amy saved her life.
Start Care Today
Contact us today to schedule your first appointment.
---
About Abundant Life Chiropractic