New Patients at Abundant Life Chiropractic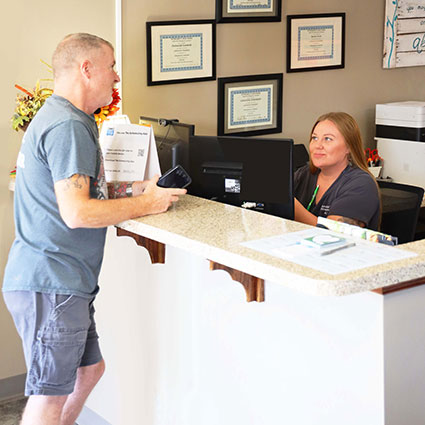 At Abundant Life Chiropractic, we make getting the care you need as convenient as possible, including providing our new patient paperwork online so you can complete it in the convenience of your own home.ONLINE FORMS »

Your First Visit
Our cheery front desk staff will greet you and take a copy of your ID and insurance card. Then they'll take you back and explain our 3-part CLA INSiGHT™ scans. These scans are non-invasive and are not X-rays—they simply read the temperature and electrical activity of your muscles, which help us determine the current state of your nervous system. You'll watch a welcome video during your scan.
Next, you'll have your consultation with your chiropractor, who will spend time learning about your life as well as what brought you in for care. Many patients ignore pain until finally it affects their lifestyle—they can't do the sport they love or play with their kids, for example. We want to get to know you and what motivates you, so we can develop an appropriate plan of care tailored specifically to your needs and goals.
Your chiropractor will conduct a thorough exam, including any necessary orthopedic and neurological assessments. If they feel X-rays are needed, they will refer you out for those. This visit typically lasts 45 minutes to an hour.
Your Second Visit
We like to schedule your second visit the very next day, if your schedule allows. At this visit, your chiropractor will go over their report of findings, including the results of your scans and examination. They'll explain what's going on with your body, and what caused the situation. Then they'll lay out their recommendations for your care.
If you are ready to begin care, you'll receive your first adjustment. Our staff will go over your insurance coverage, the estimated cost of care and all of the financial and scheduling arrangements. This visit usually lasts 45 minutes.
Take the First Step
Contact us today to schedule your first appointment, and get started on your path to overall wellness.
CONTACT US »
---
New Patients at Abundant Life Chiropractic